600s Grillmaster Trailblazer BBQ
As our flagship model, the 600s GRILLMASTER is changing the way outdoor commercial catering is approached.
Bringing incredible simplicity, huge power, infinite temperature control, ease of transportation, pure theatre, business growth. Unmatched in the marketplace the 600s has got it all!
Key features of the 600s Grillmaster
Huge Capacity
3 cooking bays
Huge Capacity
3 cooking bays for a wide variety of requirements from small groups to non-stop cooking to high volume, quick turnaround cooking.
Adjustable Heat Vent
Vortex extraction
Adjustable Heat Vent
Allowing the hot air to draw the smoke up and out of the adjustable grill vent unit.
Adjustable Grill Heights
Instant heat control
Adjustable Grill
Simple, instant, and effortless. Infinitely adjustable grill tray to allow for varying temperature and easy access for fuelling and lighting.
Multiple Chefs
Double sided cooking
Multiple Chefs
Double sided cooking stations capable of having up to 4 people cooking at the same time using both sides.
Iconic Gullwing Doors
Easy transportation
Iconic Gullwing Doors
Perfect for transportation; keeping everything safe inside – even hot charcoal while protecting the chefs against the sun or rain.
Work Area
Stainless steel surfaces
Work Area
Hygienic and stylish stainless steel surfaces on both sides allow plenty of room for side dishes, food preparation and cooking utensils.
Instant Clean Out
Scraper and ash box built in
Instant Clean Out
The innovative scraper blade system collects into the ash box for disposal when the ash has cooled down. No hassle, no dirty hands, no burnt fingers.
Lockable Storage
Safe and secure
Lockable Storage
Unique lockable storage, so you don't have to carry a lot of paraphernalia separately.
Customer BBQ Success Stories
From Cafe to Mobile Catering 
Start of as a cafe owner however soon realised the money was in outside catering and wedding BBQs
Started with a 600s Grillmaster in 2015 & now owns 3 Trailblazer BBQs
Starting of small, Mark focused on PTAs and school parties. Now he is only targeting corporate functions and weddings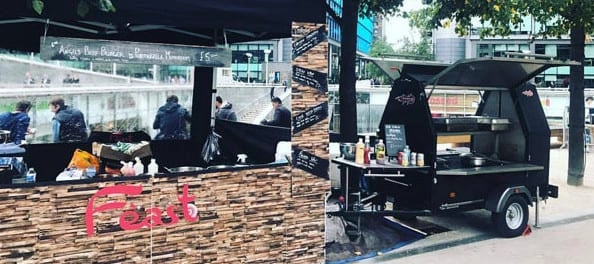 New Street Food Trends Need New Innovation
Feast use their 600s Grillmaster for street food trading across London
Noticed an increase profits of up to 40% since using the Trailblazer BBQ trailer
Produce tastes a lot nicer since switching the the Trailblazer
Increase in productivity has allowed Feast to work more efficiently and spend more time with the family.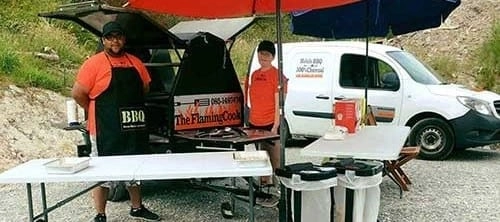 Flaming Jacks ready for Trailblazer no.2
A mobile BBQ caterer targeting private parties and small events.
Just on year on with Trailblazer BBQ and Jack is ready for machine No.2.
Has no limitations as to where he can and cannot caterer due to Trailblazers self sufficiency
Believes Trailblazer to be an essential factor to his business' survival and growth.
We Look Forward To Talking With You