Welcome to
the World of
TRAILBLAZER BBQ
The UK's leading towable BBQ manufacturer
Transforming the way of charcoal grilling and commercial catering with our unrivalled range of towable charcoal BBQs & mobile coffee trailers.
Now consisting of 7 models with 11 variations, Trailblazer BBQ has made commercial and domestic grilling achievable; anywhere, anytime, any place. All year round, in the sun, rain & snow.
Commercial BBQ / Grills Used by The Worlds Top Chefs

UK BUILT TO THE HIGHEST STANDARD

EUROPEAN WHOLE VEHICLE TYPE APPROVAL
 INSTANT HEAT CONTROL / ADJUSTABLE GRILL HEIGHTS
 CHARCOAL FULLED / FULLY SELF SUFFICIENT
 DOUBLE SIDED COOKING
 ASH SCRAPER & COLLECTION BOX

 SYSTEM CONFIGURATIONS FOR HUGE FLEXIBILITY
 ICONIC & FUNCTIONAL BUILD
"If everything I bought paid me as well as my Trailblazer BBQ, I would be a billionaire!"
Pat Brady, The Kitchen
The Trailblazer Commercial BBQ range brings incredible simplicity, huge grilling powers, infinite temperature control mobility, pure theatre and significant growth to commercial businesses! A Trailblazer towable charcoal BBQ is not just another piece of commercial catering equipment it will significantly enhance your business and profits, grow new customers and extend your outdoor catering season!
From Cafe to Mobile Catering 
The Foodie Folk journey began when Mark Stone opened a brick-and-mortar shop & cafe located in Belfast to follow his passion for proper food. However he soon realised the money was to be made in outdoor catering!
Mark now has several Trailblazer BBQs…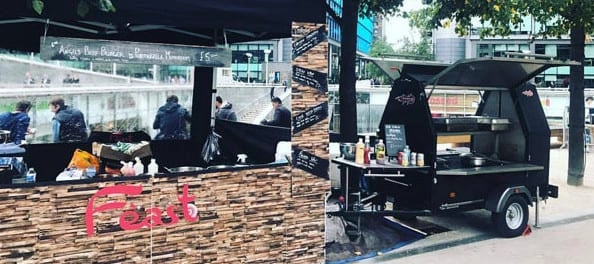 New Street Food Trends Need New Innovation
As street food trend continues to grow, it"s becoming a very profitable industry to operate in.
We caught up with successful London street food trader & proud Trailblazer BBQ owner Leigh White to see how he is benefiting with his towable Trailblazer BBQ.
"If everything I bought paid me as well as my Trailblazer BBQ, I would be a billionaire!"
– Pat Brady, The Kitchen
We did a PTA on Friday night. 450 fresh 4oz burgers & 450 hot dogs (sausages pre-cooked) 2 hours, 1 man cooking (the 1 man is clearly a BBQ wizard – that's me by the way!)
Mark Stone – Foodie Folk – (600s Grillmaster)
If everything paid me as well as my Trailblazer I'd be a billionaire!
Trailblazer BBQ has proved to be a huge money maker for my business. Starting with one Trailblazer 600s Grillmaster, I now have a fleet of three out on the road!
Pat Brady – The Kitchen (600s Grillmaster)
The Mini has paid for itself
My 120 Mini has most definitely paid for itself despite still looking like it has never had a hard days work. A great machine and I am excited to focus more attention to it next year.
Thomas Smith – Mileburne Charollais Ltd – (120 Mini)