Trailblazer 350 Club BBQ
The Trailblazer 350 CLUB BBQ was added to the range as a response from the market for a smaller more compact unit that performs exactly like its big brothers.
Beautifully styled and with a capacity of 350 BPH (burgers per hour) the 350 CLUB is and excellent option where the size and capacity of the 600s isn't required.
The 350 CLUB is also available in a mobile version with high quality inflatable tyre castors where towing on the road isn't required but where easy movement around your grounds is.
Customer Success Stories
While you are here, why not have a read through our other customer success stories and learn how other traders are profiting with Trailblazer BBQ throughout the UK street food and outside catering industry!
From Cafe to Mobile Catering 
Start of as a cafe owner however soon realised the money was in outside catering and wedding BBQs
Started with a 600S Grillmaster in 2015 & now owns 3 Trailblazer BBQs
Starting of small, Mark focused on PTAs and school parties. Now he is only targeting corporate functions and weddings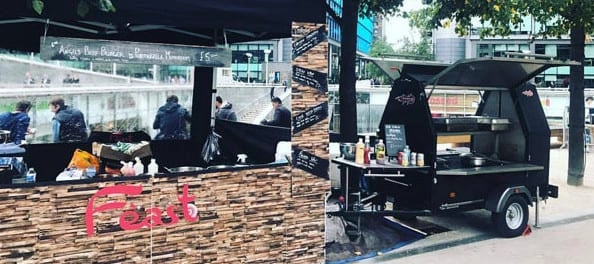 New Street Food Trends Need New Innovation
Feast use their 600S Grillmaster for street food trading across London
Noticed an increase profits of up to 40% since using the Trailblazer BBQ trailer
Produce tastes a lot nicer since switching to the Trailblazer towable BBQ
An increase in productivity has allowed Feast to work more efficiently and spend more time with family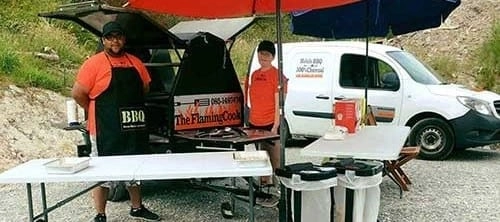 Flaming Jacks ready for Trailblazer no.2
A mobile BBQ caterer targeting private parties and small events
Just one year on with Trailblazer BBQ and Jack is ready for machine No.2
No limitations as to where he can and cannot caterer due to Trailblazer's self sufficiency
Believes Trailblazer to be an essential factor to his business' survival and growth
The Full Trailblazer Grillmaster BBQ Range
With our new extended range of Trailblazers, if you need a BBQ for anything from small, to very large groups, then nothing comes close to the amazing Trailblazer BBQ/Grill range. Unrivalled in the marketplace.
Trailblazer models range from the 120 MINI, specially designed as the ultimate car accessory for the outdoor family and small groups, right up to the 1200 FESTIVAL comfortably handling very large groups in excess of 1,500 people. All our models are designed to be towable anywhere from a beach to a forest park and by a 4WD family saloon, van or even a quad or motorcycle.
With its innovative gull-wing style designed to protect against sun, rain, hail or snow, Trailblazer will become more than a fair-weather friend. Alone with its impressive grilling power, Trailblazer simply oozes personality. Frequently becoming the star of the show and the centre of attraction at your outdoor event generating a steady flow of future business and bookings.
Trailblazer has made large BBQ/grilling achievable, anywhere, any time, any place. All year round, in the sun & in the rain, even in the snow! The list of opportunities for you to benefit from with the unique features of the Trailblazer range are enormous. With Trailblazer, the opportunities for you are endless. Cater with ease for parties, office outings, clubs, church groups, youth camps, fundraisers, weddings, beach parties, sporting and music events, fairs and shows, school sports days and many more.
When you own a Trailblazer, it is not just another piece of catering equipment, it will enhance your business, grow new customers and extend your season.
Thanks to the innovative and unique Trailblazer towable and mobile barbeque range, outdoor entertaining and catering anywhere, anytime and for any number of people is now better than ever.
While enjoying all the conveniences usually associated with gas, the charcoal powered Trailblazer is the only serious barbeque option for large groups. Whatever the weather, wherever you are, everyone can enjoy the authentic smoky taste that charcoal provides.
Offering the ultimate BBQ grilling experience, from the Trailblazer 12 MINI to the Trailblazer 1200 FESTIVAL – comfortably reaching cruising speeds of up to 1200 burgers per hour (BPH) – all the while retaining the finesse and control to perfectly cook a Chateaubriand.
Trailblazer is proud to have customers in a wide variety of sectors and countries including outdoor catering, hotels, pubs, restaurants, butchers, leisure, event organisers, event venues, charities, trailer hire, catering equipment hire and hire depots.
With Trailblazer you have an opportunity to grow your business in a way the you were not able to do in the same way before and enjoying a surprisingly rapid return on your investment with a noticeable growth in your business.
Trailblazer 1200 Festival
For very large groups
Trailblazer 600s Grillmaster
For large groups
Trailblazer 350 Club
For medium sized groups
Trailblazer 120 Mini
For smaller groups
Talk to us. We speak fluent BBQ!
If you are an existing caterer or interested in starting a mobile catering business, then please get in touch and let us help you! We have a wealth of experience and work closely alongside our customers to make sure they are getting the best from their Trailblazer towable BBQ.
Phone: 028 9057 9000
Email: [email protected]