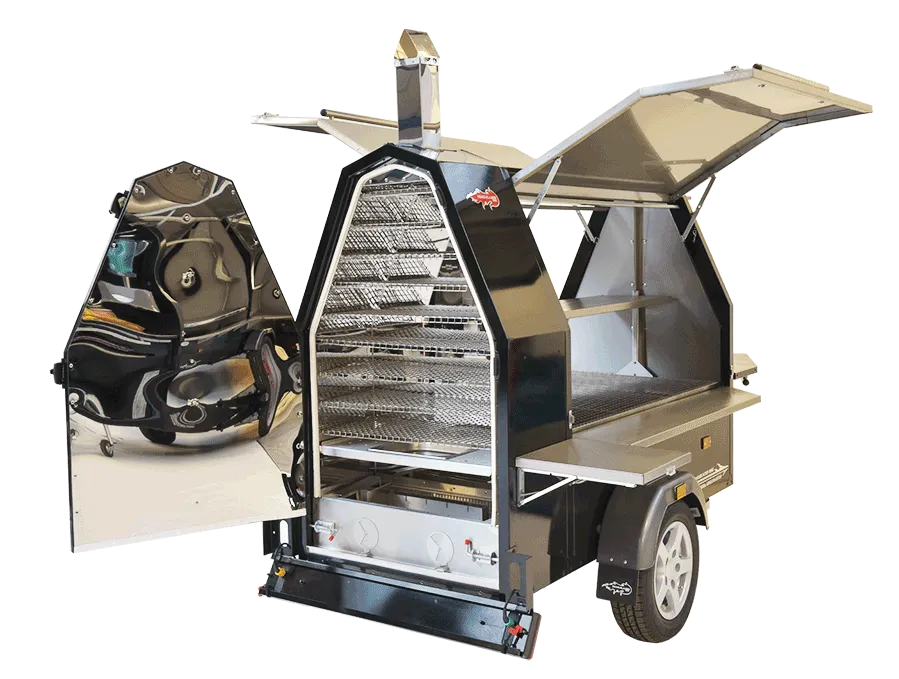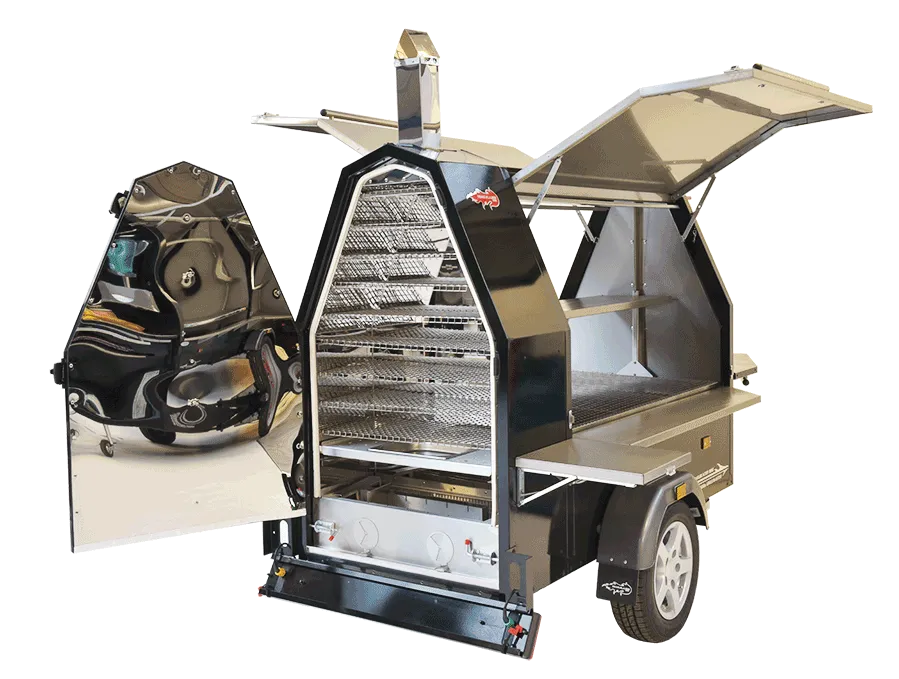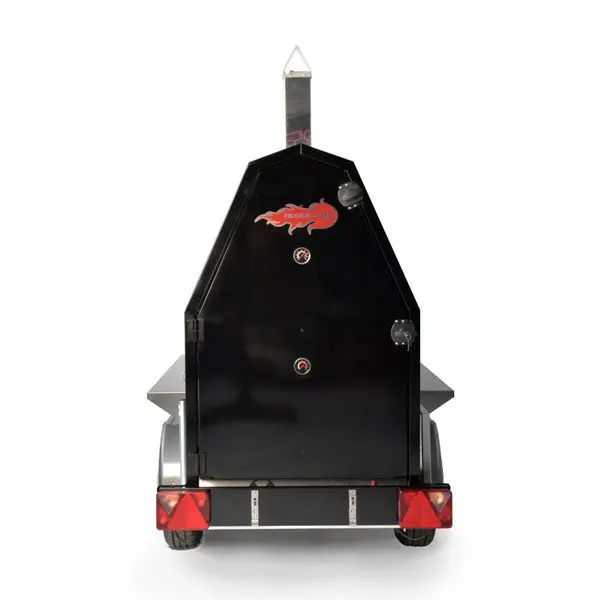 The 600 STREETMASTER
4-in-1 CHAROCAL GRILL TRAILER WITH INTEGRATED BBQ SMOKER
Specifically designed to be the ultimate street food trailer, this commercial BBQ smoker offers incredible versatility. Including the ability to grill, smoke, roast and bake pizza.
At a sixth of the price of any food truck, the 600 Streetmaster commercial BBQ smoker aims to bring a much-needed new dynamic to the street food industry at a very affordable price.
Boasting Incredible Innovation…
This commercial charcoal BBQ is unrivalled in the marketplace and here's why…
Adjustable grill heights giving instant heat control
Large 600 BPH (Burgers Per Hour) grill with adjustable grill heights giving easy access for charcoal replenishment and instant heat control from searing hot, to slow cooking. Don't fight against flare ups – simply lower & raise as you please throughout the cooking process.
Fire Tunnel for baking pizza, roasting veg or melting cheese
Giving the ability to cook pizza in under just 3 minutes, the Trailblazer Fire Tunnel can also be used as a roasting oven or melting dome, giving huge flexibility and menu diversification. (Fire stone not included.)
Fully insulated vertical smoker
Fully insulated vertical smoker with designated firebox and ash collection tray, eight rack chamber offering a huge 200L smoking capability make this the ultimate street food trailer. Removable stainless steel grills allow for more spacing between racks. See smoker features below.
Iconic stainless steel gull wing doors
Iconic stainless steel gull wing doors with multiple fixing positions offering excellent weather protection to chefs and double sided cooking. When closed, doors will keep everything inside hot, safe & contained.
Front & side stainless steel drop-down tables
Hygienic and stylish stainless steel drop-down tables allow plenty of room for side dishes, food preparation or setting out dressings. Tables fold down for compact storage and transport.
Vortex air vents to maximise airflow & ventilation
Manage your cooking airflow for low and slow or indirect cooking or high speed grilling using the Vortex adjustable air vents on top of the 600 Streetmaster. Hot air draws the smoke up and out under your control.
Ash scraper & collections box for clean out
Ash scrapper and collection box allowing for hassle free clean out. Simply pull the scrapper bar to gather charcoal into the removable ash box. With our premium grade lumpwood charcoal, ash will be minimal.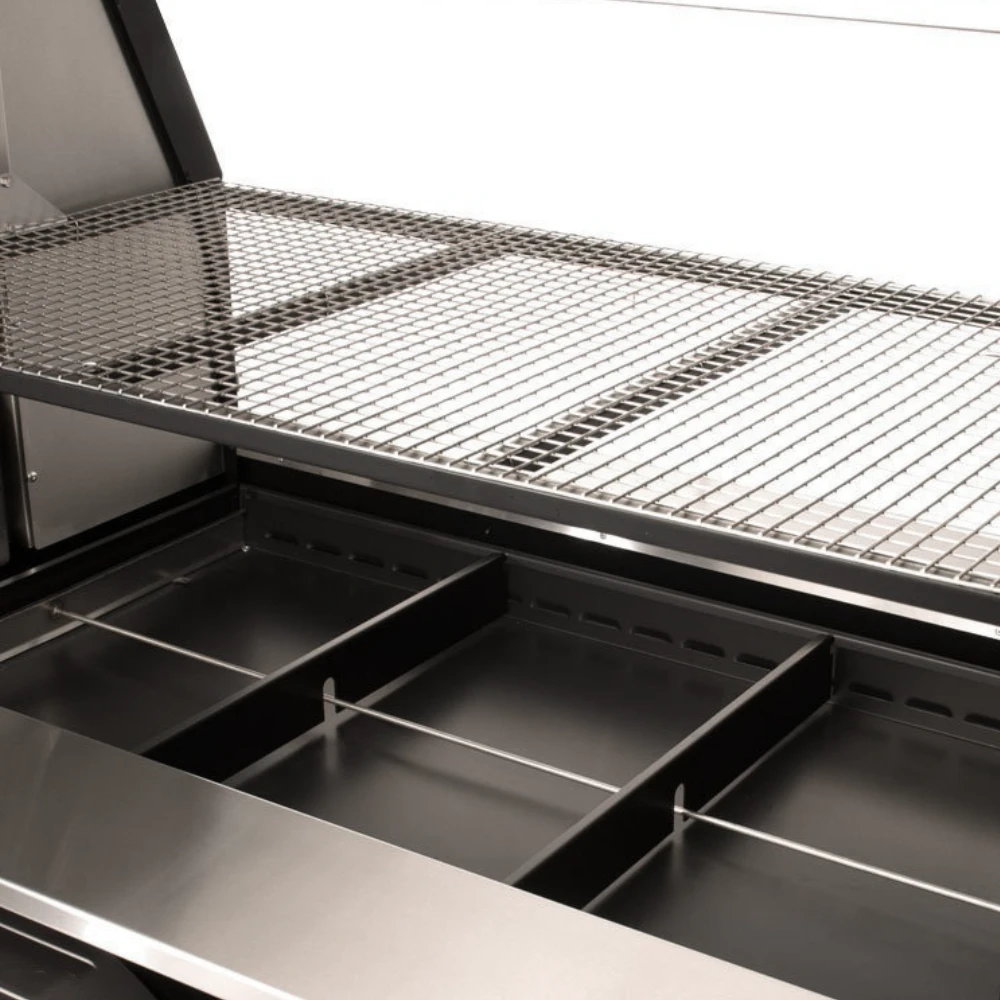 Reinforced firebox with three cooking bays
Built for 'zone cooking', our reinforced firebox comes with three cooking bays to allow for multiple chefs and direct or indirect heat zones you may need e.g. searing, grilling, resting.
Fitted rain gullies giving rainwater protection
Rain gullies are fitted to catch and guide rainwater away from grill area so even with the doors wide open in a passing shower, you won't get spitting and hissing grills.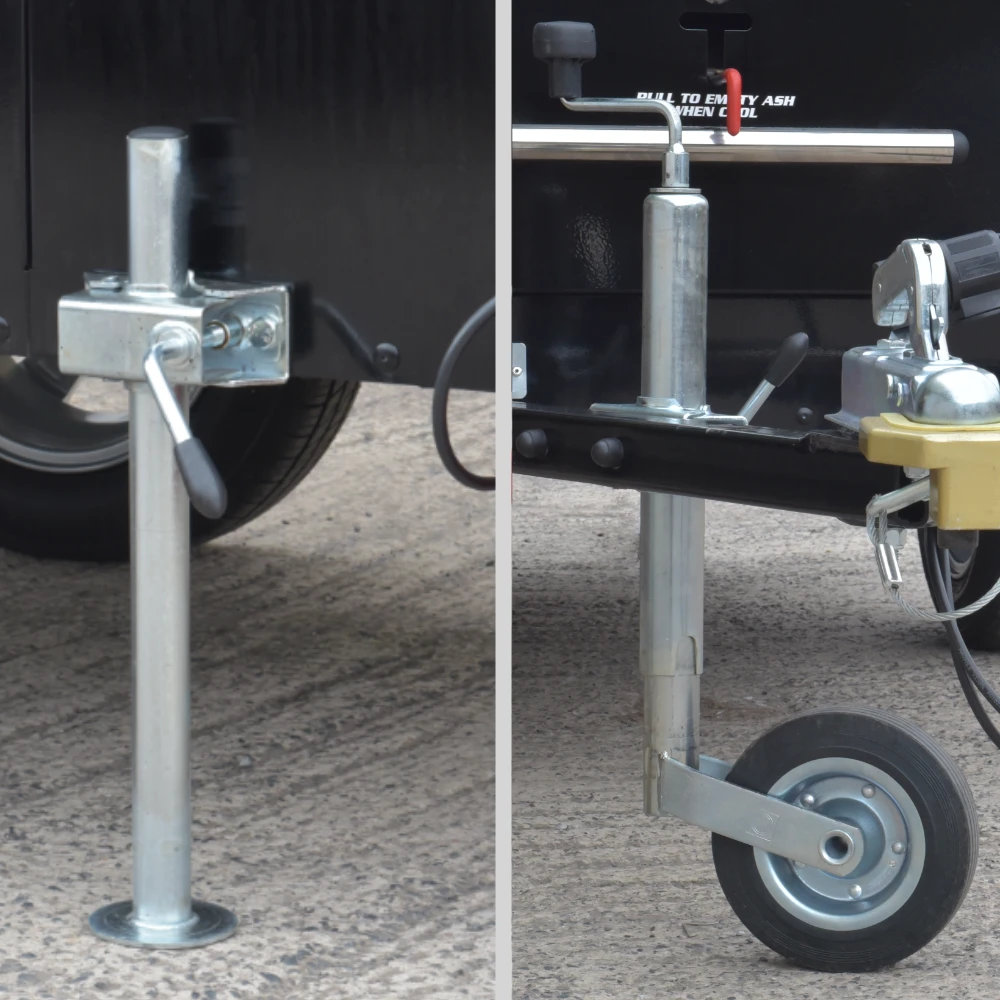 Heavy duty jockey wheel & rear prop stand
The heavy duty jockey wheel enables you to easily manoeuvre your 600 Streetmaster street food trailer across any terrain. The rear prop stand make it easy to set and maintain a level and steady cooking surface.
10 inch five spoke alloy wheels
Upgraded 10 inch five spoke alloy wheels with high profile tyres may not get you there any quicker, but they are stronger and simply look great as you travel and park up at your next event location.
Stainless steel upper warming shelf
This offers the perfect way to store warm cooked foods so you can prep ahead of the rush, or simply make it easy to serve tasty hot food every time. You are in full control of your cook.
European whole vehicle type approval
European whole vehicle type approval means that you require absolutely no additional license to legally tow this three metre street food trailer across the UK or Europe. Equipped with full integrated trailer lighting system.
Full stainless steel interior with galvanised & powder coated exterior
Every Trailblazer is made with a full stainless steel interior and a galvanised then powder coated exterior to ensure there is no corrosive rust and your 600 Streetmaster looks immaculate wherever you go.
Trailblazer BBQs: used by catering industry professionals all over the world.
SMOKIN' HOT SMOKER FEATURES
Designated 'minion maze' firebox for maximum efficiency
Our 'minion maze' is designed for maximum fuel efficiency with a single load of our recommended fuel, Heat Beads® BBQ Briquettes, giving up to 18hr burn time at extremely high temperatures.
Lower & upper adjustable air vents for precision control
Our BBQ smoker comes with top & bottom vents for maximum temperature control and air flow letting you carefully manage perfect smoking. You can simply taste the difference – more flavour, more taste.
Eight removable oven shelf racks
With an ample 200L vertical smoking chamber and eight removable stainless steel oven shelf racks you get more spacing between racks to let the the trapped smoke to do its magic.
Supplied water tray / drip tray with multiple height settings
Every 600 Streetmaster is supplied with a water tray / drip trap with multiple height settings to keep your smoke at the right humidity and your food tender whilst catching sauce and glaze drips.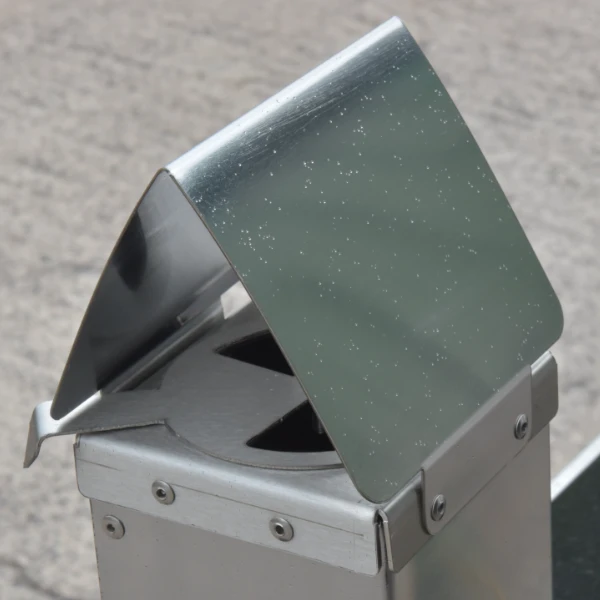 Chimney hood for weather protection
When the weather is inclement, your precious smoke needs all the protection it can get. The chimney hood on the smoke stack is designed to give you full control over the air vent and unwanted water ingress.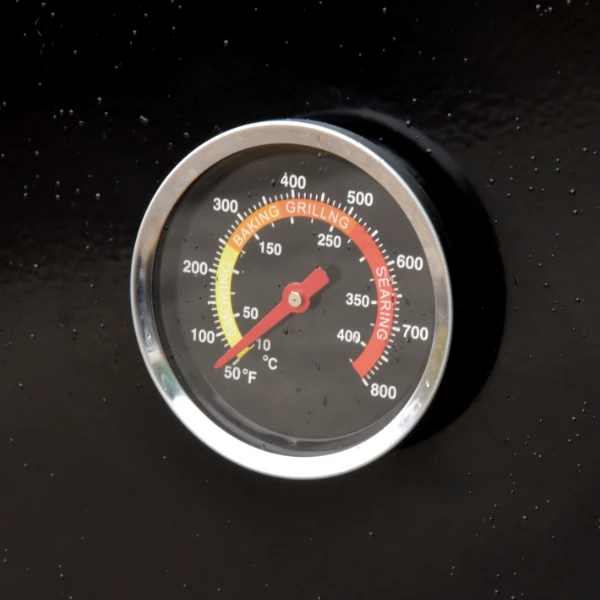 Twin thermometers for accurate temperature readings
Need to check the temperature at the top and bottom of our commercial BBQ smoker? Twin thermometers built in to the smoker door will tell you all you need to know to manage your smoking.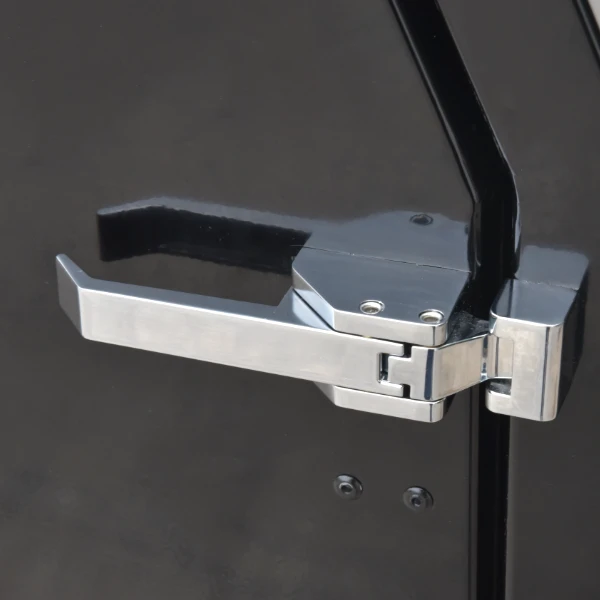 Lockable handles for tamperproof long cooks
When your commercial BBQ smoker is working its magic on long cooks you can ensure no one will tamper with the burn or release smoke and temperature early with secure locakable handles.
Silicone seal for airtight environment
Every commercial BBQ smoker needs an airtight environment to contain and manage heat and airflow and the 600 Streetmaster is no exception. A strong silicone seal keeps heat and air trapped to give that perfect smoked taste.
READY BUILT
READY TO SHIP
DIRECT FROM FACTORY
NO MIDDLEMAN
EUROPEAN WHOLE VEHICLE TYPE APPROVAL
MADE FROM 304 STAINLESS STEEL
LIFETIME MANUFACTURING WARRANTY
CUSTOMER PHOTOS OF THE 600 STREETMASTER STREET FOOD TRAILER IN ACTION
Our customers love us
And we love them right back!
The ultimate charcoal grill street food trailer with low & slow commercial BBQ smoker, hot hold storage & pizza oven
Trailblazer's 600 Streetmaster is our top of the range commercial BBQ smoker, brand new to 2021. This incredibly versatile street food trailer has been based around our industry proven hero, the Trailblazer 600s Grillmaster.
Offering everything that our 600 BPH (Burger Per Hour) flagship model, the 600s Grillmaster, does, the all new 600 Streetmaster commercial BBQ Smoker trailer has been taken to a whole new level in terms of visual presence, performance and cooking capability through the introduction of added innovative features. Now You Can…
BBQ Grill | Sear | Smoke | Cook Low & Slow | Roast | Hot hold | Bake Pizzas
The 600 Streetmaster commercial BBQ smoker comes as standard with an eight rack fully insulated vertical BBQ smoker offering a whopping 200 litre low & slow smoking chamber.
The vertical smoker module has been designed with ease of use, efficiency and theatre in mind. The rear door houses two thermometers at different heights to give accurate and consistent temperature readings throughout use.
Both upper and lower air vents have been built into the smoker module to allow for precision control and airflow adjustments.
The BBQ smoker comes with its own designated firebox with a 'minion maze'. This maze design offers immense charcoal efficiency and has a maximum burn time of up to 20 hours from just one load of charcoal, meaning that you won't need to worry about replenishing charcoal even throughout longer cooks.
We understand that smoking may not be for everyone. Due to the BBQ smoker's design with its designated firebox and immense insulation, this area can be used as a hot hold area making it ideal for longer events such as festivals or street food markets.
Not only does this beautiful BBQ trailer boast a 600 BPH (Burger Per Hour) commercial charcoal grill with instant heat control and a segmented firebox. The Streetmaster also comes with an included Trailblazer Fire Tunnel for cooking pizza, roasting vegetables or melting cheese.
This is a sleek, lightweight alternative to the traditional weighty pizza oven that has often been troublesome to commercial caterers when moving across soft grounded events or locations.
The Trailblazer Fire Tunnel simply sets on the charcoal grill, occupying just one of the three bays, meaning you can be cooking pizza and grilling simultaneously. Additional fire tunnels can be purchased if and when desired, giving the ability to instantly turn your 600 BPH (burger per hour) charcoal grill into a pizza per minute capability.
We understand that as a mobile caterer / street food trader a big limitation is often pitch size and restrictions in what can be transported to and from each location. As the majority of our current street food customers operate either individually or with one other, we know the importance of having a compact yet versatile catering trailer that allows for fast and easy set up.
This is where the 600 Streetmaster street food trailer really shines. The ability to sear, grill, roast, smoke, cook low & slow along with hot holding facilities… all within one three metre long trailer that has been kept well within the 01-category meaning anyone with a driving licence can tow this towable BBQ smoker trailer. Each and every Trailblazer commercial BBQ trailer leaves our N. Ireland factory with full European Whole Vehicle Type Approval meaning our units can be legally towed throughout the UK and Europe.
Make no mistake about it, the 600 Streetmaster BBQ Smoker is an absolute spectacle when in operation and will be sure to draw crowds of consumers to your set up, regardless of the competition. As the saying goes, people eat with their eyes first, but with a Trailblazer BBQ Smoker & charcoal grill they will likely smell you before they even see you!
High speed charcoal grilling & pizza baking with integrated commercial BBQ smoker for hot hold storage or low & slow cooking and roasting.
There really is nothing else like this commercial BBQ smoker / street food trailer on the market and we are confident that the Trailblazer BBQ 600 Streetmaster BBQ Smoker will seriously outperform any other food truck or catering trailer.
Frequently Asked Questions – YOUR BURNING QUESTIONS ANSWERED.
Your burning questions answered. If there's anything you would still like to know, please contact us – we always love talking to people interested in joining the Trailblazer family. (They say you can't choose your family. But our family have chosen us!)
Specifications & dimensions
Length (including both side tables): 3,000mm

Height including 370mm chimney: 2,140mm

Width (including front and back work surfaces): 1,270mm

Weight: 300 kg

Grill surface size: 760mm x 1,400mm

200L 8 Rack smoker compartment size: L 700mm H 1,060mm W 300mm (at widest point)

Upper warming area size: 1,380 mm x 360 mm
WHAT MAKES THE 600 STREETMASTER BBQ SMOKER THE ULTIMATE STREET FOOD TRAILER?
GAS GRILLS: Unlike gas alternatives, your Trailblazer thrives in all weather conditions. You won't need to worry about wind blowing a gas flame out or having to keep the BBQ tucked away, hidden from wind & the party. The gull wing door on the 600 Streetmaster street food trailer can be closed on one side to act as a wind block, keeping your cooking area sheltered even on a stormy night. Just wheel the 600 Streetmaster commercial BBQ smoker into the open and let it become the centre piece of any gathering.
Many consumers (both professional and domestic) are under the illusion that gas barbecuing is more convenient than exciting, authentic charcoal grilling. THIS IS NOT TRUE. Using premium lumpwood and correct lighting techniques the 600 Streetmaster can be lit and ready to cook on in under 10 minutes. That's quicker than what it takes to preheat any gas BBQ!
PS: the 600 Streetmaster doesn't have any fancy light up buttons or digital dials to cause trouble at the first sign of water…
OTHER CHARCOAL GRILLS: Another misconception many people have associated with charcoal grilling is the inability to regulate heat. And the majority of the time this is correct.
Unlike other charcoal BBQ brands, one of Trailblazer's unrivalled features is the adjustable grill heights, offering instant heat control. The ability to instantly regulate heat over a live fire cooking is just one of the many features that sets Trailblazer apart from other charcoal options.
Many kettle BBQs consist of a relatively small grill area making catering for large gatherings a time-consuming hindrance. The 600 Streetmaster commercial BBQ smoker boasts a 600 burger per hour grill capacity making catering for small gatherings a breeze. Just light & unite. It even has a lower warming oven to keep cooked food warm until it's time for seconds.
KAMODO GRILLS: Egg-type grills have become very popular over the years and they cook well for what they are designed for. But Kamado grills are made out of porcelain making them very heavy, not very portable and quite fragile.
The 600 Streetmaster street food trailer sits on a three metre galvanised and powder coated chassis and can towed (or pushed with its supplied jockey wheel) to exactly the right spot with minimal effort.
The enclosed firebox and fully insulated walls keep the gables cool to touch even when the BBQ is lit. The 600 Streetmaster can be moved around during the cooking process which is perfect for following the sun or shade!
PELLET GRILLS: You need power for the mechanical feed system of a pellet grills, and this can jam and breakdown when you least expect it. So you can only grill where there is electricity. Yes, they can produce a better flavour than gas grills, but they can be fiddly and temperamental.
Most cheap gas or charcoal grills are mass-produced in China and rust or break over time. Don't be the person who looks out their back window into your garden only to see a rust bucket propped up on only three of four wheels. Buy right & buy once. Our UK handmade BBQs come with a lifetime warranty. We are confident in our product and we want you to be too.
We Look Forward To Talking With You
Please complete the form and we will be in touch with some pricing and information. Don't worry, we will never pester or pressure you into making a decision.