Commercial BBQs by Trailblazer BBQ
The Trailblazer Commercial BBQ range brings incredible simplicity, huge grilling powers, infinite temperature control, mobility, pure theatre and significant growth to commercial businesses! 
Our commercial BBQ trailer range consists of 4 models with 7 configurations to help ensure we have the perfect fit to significantly enhance your business and profits regardless of its current size or requirements. Extend your catering season with a Trailblazer commercial BBQ!
The 1200 System Configuration
Raise your steaks with chips! Offering much more than just a commercial bbq, this unit is the ultimate street food trailer. Add additional profits to any menu item with the ability to add chips, onion rings, goujons etc. Now You Can!
Have one part grill & one part appliance recess area. Tailor the appliance recess area specific to your needs. Whether you opt for fryer units, refrigeration, etc.
Length – 4200 mm
Weight – 500 kg
Fryer Area – Dual Basket Fryer
Grill Area – 1.0 m²
Hold Hot Storage – 100 lt
The 1200 Festival is the largest commercial bbq we have for sale.
This BBQ trailer has massive outputs of up to 1200 burgers per hour! This unit can also be converted into a one part grill & one part prep & storage area thanks to the Trailblazer Prep & Store Kit.
Length – 4200 mm
Output – 600 bph
Weight – 500 kg
Grill Area – 2 x 1.0 m²
Prep & Store Conversion compatible.
The 600s Grillmaster is proving to be a key player in the street food and mobile catering industry.
A compact and mobile unit, allowing access in tight areas and courtyards yet boasting impressive output & theatrical cooking experiences.
Outputs – 600 bph
Length – 3000 mm
Weight – 275 kg
Grill Area – 1.0 m²
The 350 club is the smaller option in our commercial bbq range. It's an excellent option for when the size and capacity of the 600s isn't required. The 350 Club has the same innovative features as out bigger BBQ trailers and is also available in a mobile version with high quality inflatable castors for easy manoeuvrability.
Outputs – 350 bph
Length – 2260 mm
Weight – 175 kg
Grill Area – 0.7 m²
1200 Food Truck Trailer System
The ultimate food trailer for commercial bbq catering. Tailor the appliance recess area to suit your menu requirements
Perfect for high volume commercial bbq catering as the 1200 Festival has a grill capacity capable of holding up to 120 burgers at a time. Conversion kit also allows for Prep N Store area.
Prep 'N' Store conversion capabilities
A high performing unit in a compact shell giving ultimate accessibility. Perfect for street food trading and mobile catering. 3 cooking bays giving mass outputs & rear lockable which can be converted to a vertical smoker!
Perfect for a restaurant add on, beer gardens or for when the output of the 600s isn't needed. The 350 Club comes in mobile version for when towing isn't required.
Our Customers Say It Best
Revolutionary! This charcoal alone has saved me 20% of our costs.
It's been nearly a year with the Trailblazer BBQ & we have already seen an increase in turnover of between 30-40% since using the 600S Grillmaster.
From Cafe to Mobile Catering 
Start of as a cafe owner however soon realised the money was in outside catering and wedding BBQs
Started with a 600S Grillmaster in 2015 & now owns 3 Trailblazer BBQs
Starting of small, Mark focused on PTAs and school parties. Now he is only targeting corporate functions and weddings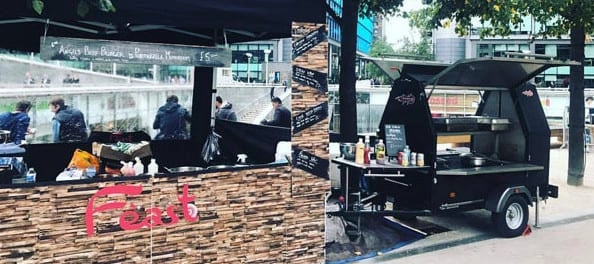 New Street Food Trends Need New Innovation
Feast use their 600S Grillmaster for street food trading across London
Noticed an increase profits of up to 40% since using the Trailblazer BBQ trailer
Produce tastes a lot nicer since switching to the Trailblazer towable BBQ
An increase in productivity has allowed Feast to work more efficiently and spend more time with family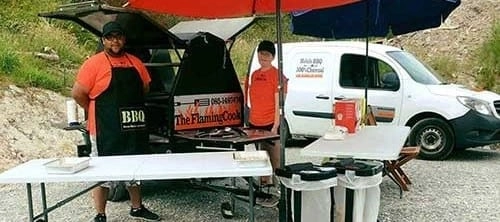 Flaming Jacks ready for Trailblazer no.2
A mobile BBQ caterer targeting private parties and small events
Just one year on with Trailblazer BBQ and Jack is ready for machine No.2
No limitations as to where he can and cannot caterer due to Trailblazer's self sufficiency
Believes Trailblazer to be an essential factor to his business' survival and growth
Talk to us. We speak fluent BBQ!
If you are an existing caterer or interested in starting a mobile catering business, then please get in touch and let us help you! We have a wealth of experience and work closely alongside our customers to make sure they are getting the best from their Trailblazer towable BBQ.
Phone: 028 9057 9000
Email: [email protected]
Stay up to date with our latest news & products
Your email is safe with us, we don't spam.