Trailblazer Commercial BBQs
The Trailblazer Commercial BBQ range brings incredible simplicity, huge grilling powers, infinite temperature control, mobility, pure theatre and significant growth to commercial businesses! 
The 1200 Food Truck Trailer
Equipped with a large charcoal grill that offers adjustable cooking heights, a dual basket fryer, stainless steel work tops & 100lt of fully insulated hold hot storage this commercial BBQ is the ultimate food truck trailer.
It's compact, self sufficient, high performing, theatrical and allows for huge menu flexibility & offerings. Raise your steaks with chips!
This BBQ trailer comes as standard as a dual charcoal grill capable of outputting 1200 burgers per hour!  The 1200 Festival is our largest footprint & offers spectacular visibility and theatre throughout use.
This commercial BBQ Grill has proven very popular throughout the large events, wedding catering & sporting stadiums in recent years.
Trailblazer Prep N Store Conversion Kit
This unit can be converted from a dual grill into a one part grill and one part prep & storage area thanks to the Trailblazer Prep & Store Kit.
Undoubtably our HERO commercial BBQ trailer!
The 600S Grillmaster boasts 3 cooking bays offering a massive 600BPH output, an upper warming area, rear lockable storage, front & side drop down stainless steel tables, vortex roof vents, iconic gull wing doors etc. The 600S has to all!
Due to its compact footprint, mobility & sheer theatre, the 600s Grillmaster is proving to be a key player in transforming the UK street food and mobile catering industry.
The 350 club is an excellent option for when the size and capacity of the 600s Grillmaster isn't required. A popular choice for butchers, clubs & societies. 
The 350 Club has the same innovative features as out bigger commercial BBQ trailers. Including Adjustable Grill Heights, Ash Scraper & Collection System, Divided Fire Box etc.
Trailblazer Commercial BBQ Videos
Customer Success Stories
While you are here, why not have a read through our other customer success stories and learn how other traders are profiting with Trailblazer BBQ throughout the UK street food and outside catering industry!
From Cafe to Mobile Catering 
Start of as a cafe owner however soon realised the money was in outside catering and wedding BBQs
Started with a 600S Grillmaster in 2015 & now owns 3 Trailblazer BBQs
Starting of small, Mark focused on PTAs and school parties. Now he is only targeting corporate functions and weddings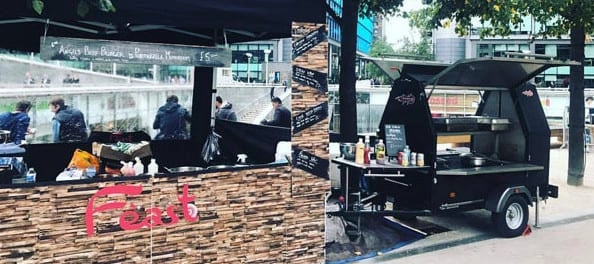 New Street Food Trends Need New Innovation
Feast use their 600S Grillmaster for street food trading across London
Noticed an increase profits of up to 40% since using the Trailblazer BBQ trailer
Produce tastes a lot nicer since switching to the Trailblazer towable BBQ
An increase in productivity has allowed Feast to work more efficiently and spend more time with family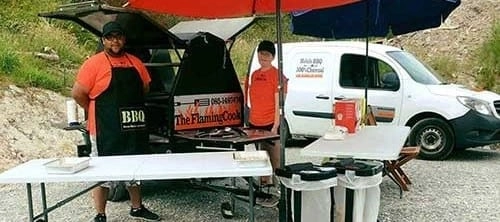 Flaming Jacks ready for Trailblazer no.2
A mobile BBQ caterer targeting private parties and small events
Just one year on with Trailblazer BBQ and Jack is ready for machine No.2
No limitations as to where he can and cannot caterer due to Trailblazer's self sufficiency
Believes Trailblazer to be an essential factor to his business' survival and growth
Leave your details & we will pass on pricing & more info.
Stay up to date with our latest news & products
Your email is safe with us, we don't spam.