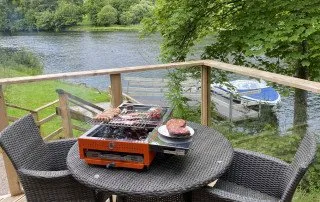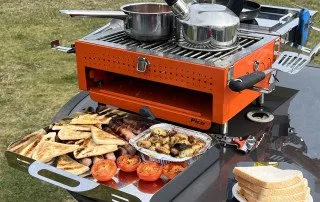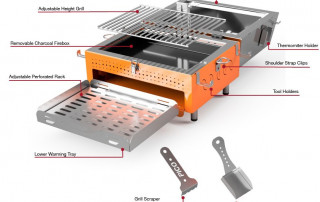 The Ultimate Portable, Tabletop Charcoal Grill
COMING TO THE
FOR
APRIL 2023
Register your interest now
75 seconds to fall in love
Having been an industry-leading manufacturer of Commercial Grill Trailers for over 7 years, we are amazed at just how much we have fallen in love with this compact powerhouse and we're confident you will too.
This small grill has some seriously big capabilities…
INFINITE HEAT CONTROL
The Infinite temperature control mechanism grants everyone a 'grillmaster status'.
Go from searing hot heat to slow and steady cooking in a few seconds. Offering the ultimate solution for escaping flare-ups and creating multiple heat zone settings throughout the duration of your next cook out.
LOWER OVEN / GRILL
Multiply the cooking capacity of this pocket rocket by using the lower oven drawer.
Powered directly from the above charcoal firebox, the lower oven/grill comes complete with a height-adjusting perforated rack, offering four different heat zones to allow for cooking, grilling, melting & warming settings.
From melting cheese on your burgers, grilling bacon, or simply keeping second servings warm, it's a game-changer!
PORTABLE
A portable charcoal grill that acts as a full storage unit for everything you need for a highly successful grilling experience.
Sits comfortably with an adjustable, detachable shoulder strap
Barbecue like a 'pro on the go' with Pico.
The Pico comes with its own charcoal scoop & grill scraper to encourage regular cleaning and ensure maintenance is of ease.
The removable lid, tray, grill & firebox are even dishwasher friendly. How much easier could cleaning get?
Trailblazer have now, for the very first time, brought the same level of innovation, control, functionality, and build quality to a multifunctional, portable charcoal grill that can be celebrated by absolutely everyone.
This awesome table-top charcoal grill has been designed & built in the same factory, in the same way, using the same materials that have been used when making our industry-leading range of commercial BBQ Grills.
We've even been able to squeeze in the same features brought by its bigger brothers in the commercial line, such as the adjustable grill, integrated tool holders, easy cleanout, and a bucket load of enjoyment. It's a complete Game Changer and one that we are incredibly proud of.
Wherever you are & wherever you go… take your Pico, the Perfect Picnic Partner