Alfresco 140 Stainless Steel Charcoal Grill BBQ
PROFESSIONAL GRADE PERFORMANCE MEETS SOPHISTICATION
THE BEST STAINLESS STEEL CHARCOAL GRILL ON THE MARKET
Meet the Alfresco 140 stainless steel charcoal grill BBQ. Beautifully hand-crafted with mirrored stainless steel and powder coated galvanised steel, the Alfresco comes complete with a large lower warming oven, a height-adjustable grill, large detachable stainless steel work surfaces, and much, much more. It really is the best charcoal grill on the market.
Not only does the all new Alfresco 140 boast the same innovative features as our commercial range that's trusted & praised by professionals worldwide, the 140 brings, even more, flare & personality. Undoubtedly our greatest creation to date and just in time to revolutionise the huge shift towards Alfresco entertaining.
Finally, a professional-quality BBQ grill for the home/prosumer user.
Versatile gull-wing doors with built-in temperature gauge

Glass viewing windows on both doors

Warming oven to store cooked food

Adjustable air vents – perfect for indirect cooking

'Pully' handle & built-in hook
Our customers love us
And we love them right back!
READY BUILT
READY TO SHIP
DIRECT FROM FACTORY
NO MIDDLEMAN
MADE FROM STAINLESS STEEL
FREE SHIPPING UK & IRELAND
LIFETIME MANUFACTURING WARRANTY
Available now, buy online
Direct from the manufacturer, no middleman
FEATURES YOU WILL FALL IN LOVE WITH
The Alfresco 140 lets an amateur grill more like a pro, and a pro's life a lot more fun. Rain hail or shine the Alfresco will shine in all weather conditions and is sure to steal the show at all outdoor gatherings. This charcoal grill is unrivalled in the marketplace and here's why…
Instant heat control – adjustable grill heights
Our adjustable height grill will save your bacon! Don't fight against flare ups – raise your grill to instantly control temperature and searing speed. Also allows easy access for fueling & lighting your grill. Simple, instant, effortless.
Versatile gull-wing doors
No more fighting off family & friends – give them their own cooking station and utensil holders. Our iconic gull-wing doors, with multiple fixing positions, gives double sided cooking with up to four cooks at a time whilst managing airflow and blocking troublesome wind. The weather kind.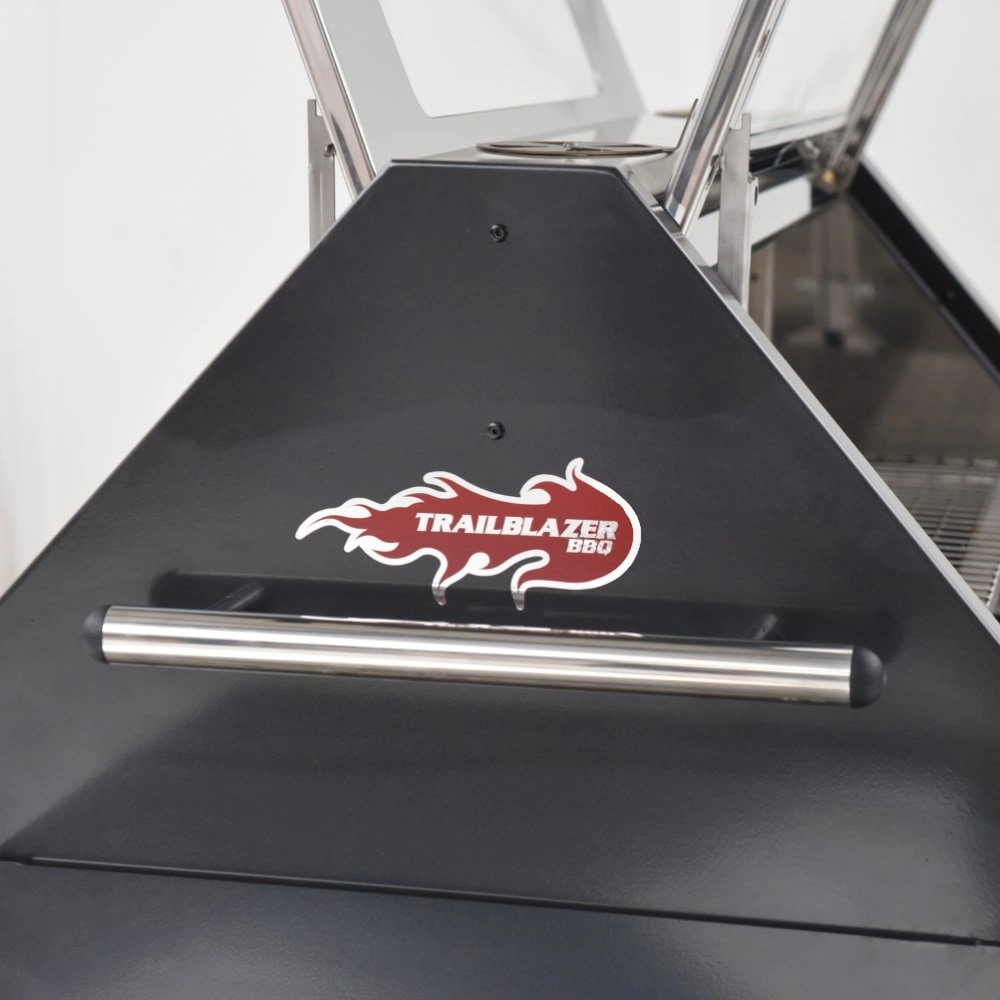 CoolTouch™ side panels
Safe to touch even at high temperatures our CoolTouch side panels are filled with rockwool to ensure cooking heat is retained and you can safely manoeuvre your grill without burning your hands.
Glass viewing windows on both doors with built-in thermometer
Glass viewing windows allow natural light to illuminate the grill – even when doors are closed. Keep an eye on your grill whilst motioring the built-in thermometer. Ideal for low & slow cooks.
Lower level warming oven
We think the grill area is for grilling. The lower warming oven offers the perfect way to store cooked foods or a great way to melt cheese over your gourmet burgers. Ideal for a family lining up for seconds.
Temperature probe entry point & cover
Closely monitor your grilled foods even with the doors closed by running temperature probes through a sealing vent designed to keep you in control at all times. Up to four probe wires at a time.
Adjustable air vents for oven temperature control
Manage your cooking airflow for low and slow or indirect cooking using the adjustable roof vents on top of the Alfresco 140. Hot air draws the smoke up and out under your control.
Four large polished stainless steel work surfaces
Stainless steel surfaces so polished you can admire yourself as you cook – even if no one else does! Large, hygienic and stylish they give plenty of room for side dishes, food preparation and cooking utensils. Two surfaces are removable to allow for compact storage.
Large double door storage compartment
Keep your garage or cupboards clear. No more hunting for your tools, the large 48 litre built-in storage compartment comes with stainless steel double doors. It's the perfect place to keep all your BBQ gear in one place.
Heavy duty lockable industrial wheels
BBQ anywhere that takes your fancy. Lockable industrial castors and built in pulling mechanism allows for effortless mobility across any terrain. In fact take your grill for a walk if you like… even when lit!
Built-in cooking utensils & cloth holders
Keep your utensils at arms reach, even when the heat is on. Front, back, left or right, always have them to hand for you and your family BBQ tag team. The Alfresco 140 comes with eight built-in utensil holders & four cloth holders.
2 x Adjustable firebox dividers for cooking zone partitioning / ash scoops
Zone cooking couldn't be easier – manage the amount of direct or indirect heat you require. Our supplied firebox dividers allow for searing stations that simply aren't achievable by gas. Create up to three cooking bays – searing, grilling, resting. And when it's done, the dividers double as ash scoops to make cleaning out a cinch.
'Pully' handle & built-in hook
No more wheels digging holes or leaving your ground like your local pitch and putt. Hook your charcoal BBQ grill with the supplied towing rod to its built-in towing point to gently tow it around. A cool manoeuvring handle on the gable end enables you to harness gusting winds to your advantage or pull your charcoal grill to a better location.
Charcoal loading chute / spreader
Included in your starter pack is a steel charcoal loading chute that doubles as a charcoal spreader. It acts as a precision guide when using large bags of commercial quality lumpwood charcoal. Keeps work areas clean from charcoal dust & can be used to spread or shape your charcoal within the firebox.
Trailblazer BBQs: used by catering industry professionals all over the world.
Available now, buy online
FREE delivery UK & Ireland
Why this is a revolution in home grilling
Lovingly designed and built in our N Ireland factory, Trailblazer BBQ's Alfresco 140 stainless steel charcoal BBQ has been beautifully hand-crafted to make outdoor living pleasurable and fun for the even the most dedicated home cook.
With its large stainless steel grilling area – capable of outputting up to 140 burgers per hour – it makes cooking for large gatherings a breeze. Its unique adjustable height grill and clever heat control system enables you to BBQ like a pro (and never burn a burger again!)
Built in glass viewing windows on Trailblazer's iconic gull-wing doors with multiple fixing positions features a handy temperature gauge. Ideal for low and slow cooking. Keep a close check your temperature critical grilled meats and longer cooks when the doors are closed using out self sealing temperature probe vent to run probe wires from them to your monitor on the outside.
The Alfresco 140's built-in lower warming oven / melting compartment is conveniently away from the grilling surface and gives you the flexibility to manage your catering with precision and flair. Keep your cooked food warm while you finish the final items in your spread and even melt delicious cheese over your burgers for that special touch.
Use the four large polished staniless steel work surfaces to prepare and tend your dishes and dressings, rubs, and sauces before, during and after cooking. You can even remove two of them for compact storage with your Alfresco 140.
Never hunt for your BBQ gear again. Keep it all in one handy place with Alfresco 140's built-in stainless steel double door 25 litre storage compartment.
Designed to be used in all weather conditions, it has lockable heavy-duty industrial castors lets you effortlessly manoeuvre across all kinds of terrain. CoolTouch™️ side panels and handle means you can turn it effortlessly to shelter from the elements whilst never burning your hands or having to wear heatproof gloves.
Eight built-in tool holders keep utensils at arm's length to keep your cooking easy and efficient. We even included four towel or cloth holders to keep your work surfaces clean and tidy when the heat is on.
When you're finished, keep all your BBQ gear in one place in the large built-in storage cupboard. And the built-in towing hook and towing rod make it a breeze to pulll your charcoal grill in to any position you require.
Want gas? You might as well turn the oven on.
COMES WITH A FULL STARTER PACK OF HANDY ACCESSORIES
To celebrate the launch of the Alfresco 140 we are offering a limited time starter pack containing a host of top quality add ons to make sure you are ready to get cooking to your full potential right out of the box.
INCLUDES SPECIAL LAUNCH PACK WORTH OVER £215 WHILE STOCKS LAST
Branded Trailblazer goodie bag
Included in your starter pack is a Trailblazer BBQ apron and keyring to ensure you look the part when you are entertaining family and guests. In addition we have included two microfibre cloths to help you keep your work surfaces clean and tidy.
ETI Thermapen Classic probe thermometer & holder
We have included a Thermapen probe, the fastest, most sensitive, and accurate thermometer you will have ever owned (accurate to ±0.4 °C (-49.9 to 199.9 °C)). It will help you to learn things about the cooking process that you could not see using other thermometers. It will display the temperature of food or liquid in just three seconds! It will change the way you cook and prepare food. Includes holder.
Heat resistant BBQ & charcoal handling gloves
To make sure your hands stay clean and safe when handling charcoal and cooking over the hot grill we include two sets of gloves. One pair to wear when adding charcoal to the grill that is loose fitting for ease of use. And another single glove with high heat rating to use when grilling to keep your hand protected and safe.
Clip on adjustable skewer holders / marshmallow toaster
Fed up with skewered food sticking to your grill? Worry no longer. Our clip on adjustable skewer holders (or marshmallow toaster if you prefer!) simply clips onto the grill to allow for any size of skewer. Its "V" shaped design allows for easy rotation and holding of skewers in place.
Spare grill raising wire + 10mm spanner
Once you get used to winding your grill surface up and down to control temperature it'll quickly become an indespensible feature. You'll end up doing reaching for the winding handle in your sleep. (Hey, we all dream of eating steak, don't we?) As users we know the vaule of included spare parts. Have a spare grill raising wire ready when your monster rack of lamb streches your toughened steel wire one time too many.
12kg bag of premium Trailblazer recommended commercial lump wood charcoal
Trailblazer BBQ's restaurant grade lumpwood charcoal is quite simply revolutionary and outperforms any other restaurant grade lumpwood on the market. Made with 100% eucalyptus wood it lights faster, burns hotter and leaves almost no ash residue making for clean and easy replenishment. Ready to cook in 10 minutes. We even throw in a pair of easy fit charcoal handling gloves to make sure you don't get your hands dirty.
Available now, buy online
Arrives ready to cook – no assembly required
Frequently Asked Questions – your burning questions answered.
Your burning questions answered. If there's anything you would still like to know, please contact us – we always love talking to people interested in joining the Trailblazer family. (They say you can't choose your family. But our family have chosen us!)
Fighting over the BBQ? Let the family cook. Light and unite… and excite!
Specifications & dimensions
Length (including both side tables): 1,806mm

Height (with doors closed): 1,225mm

Width (including front and back work surfaces): 919mm

Weight: 70kg

Grill surface size: 760mm x 480mm

Warming/melting compartment size: L 500mm H 180mm W 620mm (55 litre)

Storage compartment size: L 365mm x H 290mm x W 450mm x (48 litre)
Lets an amateur grill more like a pro, and a pro's life a lot more fun!
Available now, buy online
Delivered from direct from the factory
WHAT MAKES THE ALFRESCO 140 CHARCOAL GRILL BETTER THAN GAS & OTHER GRILLS?
GAS GRILLS: Unlike gas alternatives, your Trailblazer thrives in all weather conditions. You won't need to worry about wind blowing a gas flame out or having to keep the BBQ tucked away, hidden from wind & the party. The gull wing door on the Alfresco 140 can be closed on one side to act as a wind block, keeping your cooking area sheltered even on a stormy night. It has even been designed with a heat proof glass window to ensure natural light is not obscured. Just wheel the Alfresco into the open and let it become the centre piece of any social gathering.
Many consumers (both professional and domestic) are under the illusion that gas barbecuing is more convenient than exciting, authentic charcoal grilling. THIS IS NOT TRUE. Using premium lumpwood and correct lighting techniques the Alfresco 140 can be lit and ready to cook on in under 10 minutes. That's quicker than what it takes to preheat any gas BBQ!
PS: the Alfresco 140 doesn't have any fancy light up buttons or digital dials to cause trouble at the first sign of water…
OTHER CHARCOAL GRILLS: Another misconception many people have associated with charcoal grilling is the inability to regulate heat. And the majority of the time this is correct.
Unlike other charcoal BBQ brands, one of Trailblazer's unrivalled features is the adjustable grill heights, offering instant heat control. The ability to instantly regulate heat over a live fire cooking is just one of the many features that sets Trailblazer apart from other charcoal options.
Many kettle BBQs consist of a relatively small grill area making catering for large families a time-consuming hindrance. The Alfresco boasts a 140 burger per hour grill capacity making catering for small gatherings a breeze. Just light & unite. It even has a lower warming oven to keep cooked food warm until it's time for seconds.
KAMODO GRILLS: Egg-type grills have become very popular over the years and they cook well for what they are designed for. But Kamado grills are made out of porcelain making them very heavy, not very portable and quite fragile.
The Alfresco 140 charcoal grill sits on industrial castor wheels and comes with a pulling hook handle that has been specifically designed to prevent the front wheels from digging in when moving across stony terrain or grass.
The enclosed firebox and fully insulated walls keep the gables cool to touch even when the BBQ is lit. The Alfresco can be moved around the garden during the cooking process which is perfect for following the sun or shade!
PELLET GRILLS: You need power for the mechanical feed system of a pellet grills, and this can jam and breakdown when you least expect it. So you can only grill where there is electricity. Yes, they can produce a better flavour than gas grills, but they can be fiddly and temperamental.
Most cheap gas or charcoal grills are mass produced in China and rust or break over time. Don't be the person who looks out their back window into your garden only to see a rust bucket propped up on only three of four wheels. Buy right & buy once. Our UK handmade BBQs come with a lifetime warranty. We are confident in our product and we want you to be too.
With a Trailblazer charcoal BBQ there's no such thing as bad weather.
JOIN THE TRAILBLAZER COMMUNITY!
Stay up to date with our latest news, products & exclusive deals.
Your email is safe with us, we don't spam.